Wondering how to increase your business phone system's efficiency and save money at the same time? AAACloud Cloud-PBX is the answer!
A Cloud-PBX system is based on Cloud technology, where data is stored and transferred over the Internet, rather than on a computer or piece of hardware that an end-user owns. AAACloud's Cloud-PBX is perfect for Start-ups, SMEs, Institutions, MNCs and Call centres. It scales effortlessly from 5 to 50,000 users in 24 hours. Expand globally and deploy a phone system in a matter of days with no hardware/software cost, as it is 100% cloud-based.
Enquire Now
A 360-degree Approach
to Manage Professional Communication Virtually
​Instead of fixed hardware in a company's server closet, the Cloud-PBX services are offered by the software running on a cloud-based architecture. As a result, we are able to constantly update our software for bringing robust features and enhancements to our entire customer base.
Effortless set up, management, and Utility
Activation in less than 3 minutes.
Get access to internet connection and WorldPhone Cloud PBX is good to go.
Quick set up.
Activate multiple accounts quickly and hand over the immediate access of telephony, SMS, video conferencing, and online faxing to your teams.
24×7 communication across devices.
Download our app as per your convenience and convert any device into your own virtual office.
Ways to Connect with Cloud PBX
Effortless connection with cloud phone system, anytime, anywhere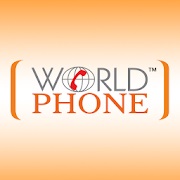 IP-PBX Use our App on iOs, Android, Notepad & More
Download our app, tap the option, and you are ready to access calls virtually
Use your Landline/IP Phone
Continue to have the ease of using your IP/Landline instrument on your desk